During my years of being a photo tour guide in Budapest, I met hundreds of Nikon shooters, so I had to learn all the tricks and quirks of Nikon cameras.
On top of that, I even bought myself a Nikon Z50 in 2019, so now it makes perfect sense that I collect my favorite and most-used tricks for Nikon Z cameras!
However, don't forget that most of these tricks will work on Nikon DSLRs, too.
Watch the video below, or read the whole article:
Nikon trick #1: Quickly check sharpness with the OK button or double tap
I don't know about you, but I like to check the sharpness of my photos right on the spot…
By default, you have to press the magnify button multiple times for that, which takes quite some time.
But there's a really easy and quick way to check sharpness!
First, you can just simply double tap on any area on the screen.
Or, you can assign the OK button to do the exact same thing – to zoom in and out of the photo.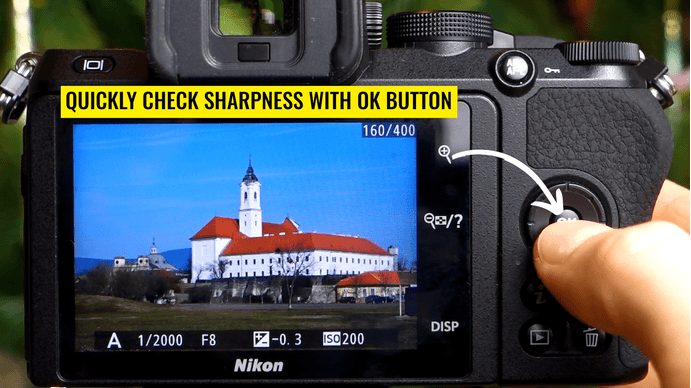 Here's how you can set this up on a Nikon Z50:
Just go to Custom settings Menu → Custom Controls playback → select Zoom On/Off
and here go for the 1:1 (100%) view.
Setting the OK button to zoom in / out on Nikon pro DSLRs and Z5 / Z6 / Z7 cameras:
Go to Custom settings Menu → Controls → OK button → Zoom On/Off
and here go for the 1:1 (100%) view.
This way, if you press the OK button when previewing the photo, it will jump to 100% view, and you'll be able to quickly check the focus.
This is something I always use, and this is something that almost every camera is capable, maybe with other buttons.
On Canons you can configure the Magnify button to do the same, and on Sonys you can assign this function to one of the functions button.
And the second trick connects rights here…
Nikon trick #2: Jump between faces
If you have face and eye detection enabled on your Nikon Z camera, and there are multiple faces on the photo, then you can jump between the faces with the selector dial in the front.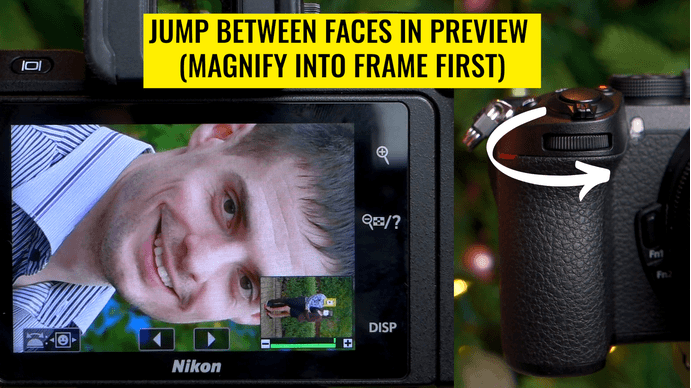 This is a very useful feature, and it enables you to quickly check sharpness on every face on the frame.
And comes the last trick in preview mode…
Nikon trick #3: Compare/check multiple images for sharpness
Another favorite of mine, which again is about checking sharpness (I may be a sharpness nerd, but who wants to have blurry shots?)
If you want to check sharpness of multiple photos, you don't have to magnify into them one by one.
Instead, just magnify to the area you want to check, and then rotate the selector dial on the back to jump between photos, while maintaining the same magnification.
For example, here I took many hand-held shots of the Moon, and wanted to quickly filter out the bad ones.
These are definitely sharp, but this is one is out of focus.
This is a real time saver, and luckily this trick works on every other cameras, so on Canons, Nikons, Sonys, Olympuses, even on compact cameras!
Nikon trick #4: Release button to use dial
I've been a long time Canon shooter, but when I bought my Nikon Z50 just for fun, one thing really bothered me…
That I had to press and hold the ISO or exposure compensation button and rotate the dials at the same time to change the settings, which feels really uncomfortable.
Until somebody from my Youtube channel came to the rescue, and commented under my Nikon Z50 review video, that there's a better way.
Just simply go to Custom settings Menu → Controls → Release button to use dial → ON
With that selected, it's enough to press the ISO or exposure compensation button only once, and afterwards you can release and rotate the dials.
It juts feels so much easier and way more comfortable.
Nikon trick #5: Activate Auto ISO quickly with front dial
Talking about ISO setting, my favorite trick is that after pressing the ISO button, you can easily activate the Auto ISO setting by rotating the front selector dial.
Of course, as usual, you can change the ISO speed with the back selector dial.
I already made a video, and a separate article on what is Auto ISO and how it works, so I will not go in detail here.
Basically, with Auto ISO enabled the camera will always set the lowest ISO speed that gives you just fast enough shutter speeds.
For example, here my minimum shutter speed was set to 1/100 of a second, and look how the camera raised the ISO automatically up as I stopped down the lens (to keep shutter speed at 1/100 second):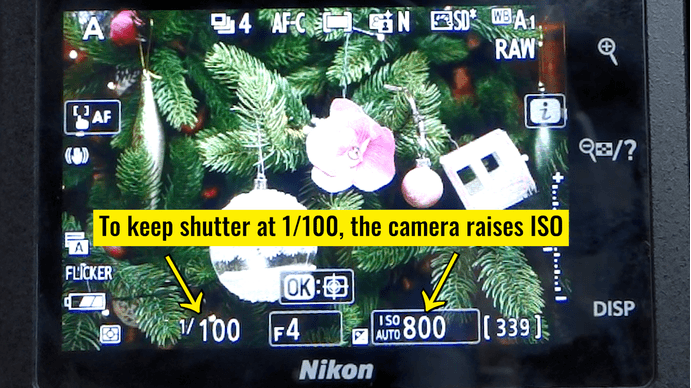 The minimum shutter speed can be set in the Photography Menu, under ISO sensitivity settings.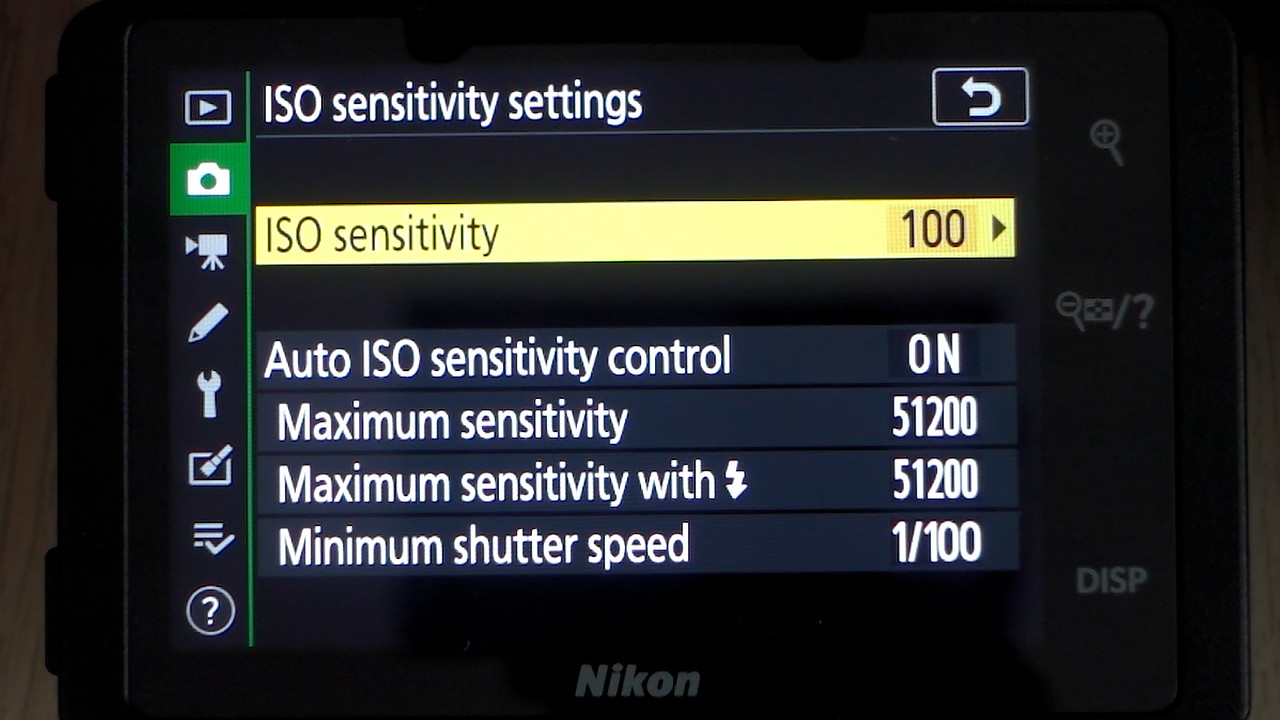 You can either set the minimum shutter speed to a certain number, or you can go Auto, in which case the camera takes the focal length into account.
And you can tweak the Auto setting even further to have 1-2 stops faster or slower minimum shutter speed than what the camera calculated.
The ISO speed at which you activate the Auto ISO, will be the bottom limit of the Auto ISO range, and the upper limit will be what you specified in the ISO Sensitivity Settings, under Minimum shutter speed.
So when you're using Auto ISO, it really makes sense to have it set to ISO 100 and then activating the Auto ISO, because this way the camera can use the whole ISO range.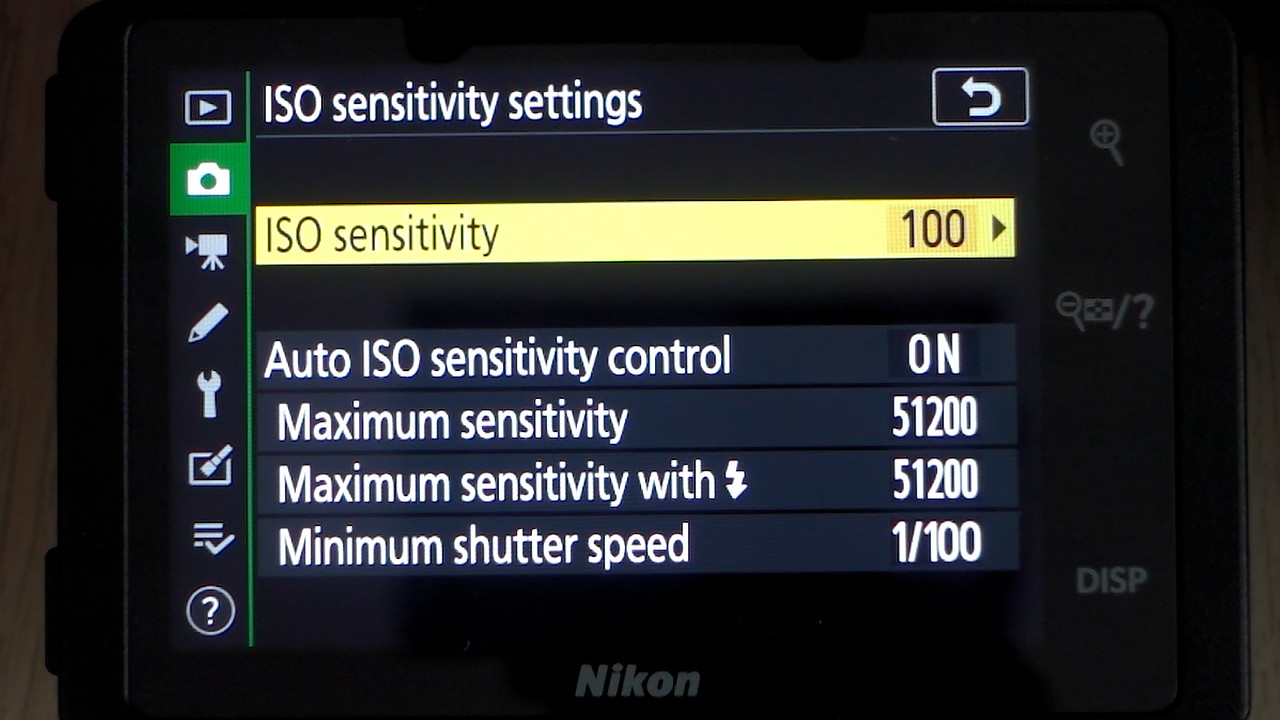 Nikon trick #6: Exposure compensation with dial only
This is just a small trick:
You can make the selector dial in the front to change the exposure compensation, without having to press the exposure compensation (+/-) button.
For this, go to Controls → Customize Command dials → Change Main / Sub → and turn the Exposure setting on.
Then, go back to the Controls Menu → Metering and exposure → Easy Exposure compensation → Yes.
Now you'll be able to change the exposure compensation with the front dial only.
Nikon trick #7: Zoom in-out with the Movie button
On the Nikon Z cameras you can find the Movie record button on the top, next to the ISO and shutter button.
So it really makes sense to assign some kind of function to it if you are in photo mode.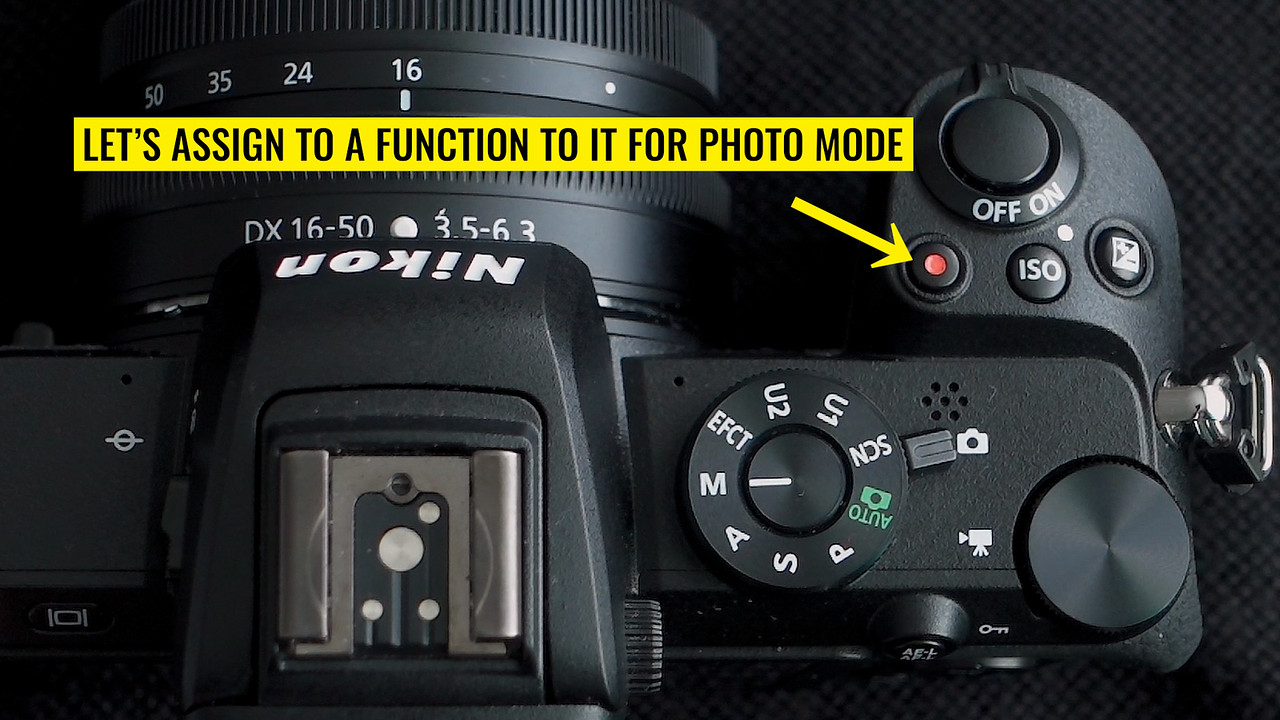 Unlike with Nikon DSLRs, on the Z cameras you cannot assign the ISO function to it.
But there are so many things to choose from…
My favorite here is the Zoom on / off feature.
So when I'm taking photos, I can quickly check if the area I'm focusing is really sharp or not, and I don't really have move my fingers at all!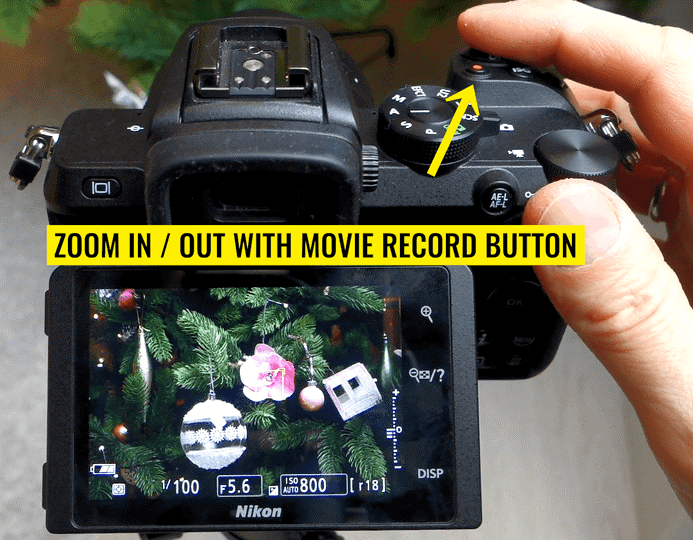 Go to Controls → Custom controls shooting → Movie Button (On Nikon Z50)
Go to Controls → Custom controls → Movie Button (On Nikon Z5 / Z6 / Z7)
What's best is that autofocus still works when magnified into the Live View!
Nikon trick #8: Manual focusing at night in video mode
If you've been following me a longer time, you know that I love night photography, and I even make a living from organising night photo tours in Budapest.
Well, I don't know how that connects to this article, but I will be very happy to take you on a night photo tour in Budapest once we can safely travel again 🙂
Back to the Nikon tricks…
If you ever wanted to take a photo of the Milky Way, you surely encountered the problem of focusing (by the way, you can read my complete Milky Way photography guide here).
You can't use autofocus on the starry sky, so you have to use Manual focus.
I have already made a video about the easiest way of Manual focusing (for some reason this is my most popular video):
The crucial step is that you magnify into the Live View, and try to set proper focus on the stars.
The problem is, all Nikon cameras I used so far, have terribly bad, noisy Live View at night. The noise makes it really difficult to focus on the stars, even if you magnify all the way in.
Just look at how crappy a Nikon Z5's Live View looks at 200% magnification on a very bright star:
But thank God, there's a workaround for this, which I first read at a Nikon D780 article.
So here's the shortcut to get rid of Nikon's noisy Live View!
Instead of focusing in photo mode, just switch the camera into video mode, and set the longest shutter speed, highest ISO, and widest aperture.
Now, if you magnify in, you'll see much less noise on the photo, and focusing becomes a lot easier.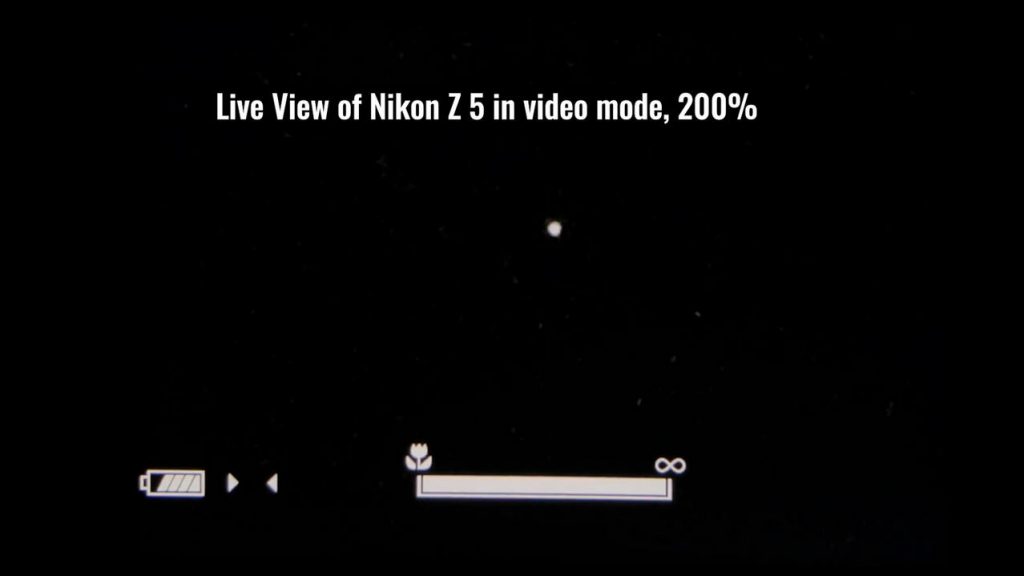 I just simply can't understand why Nikon can't fix this problem, I'm sure it would be a matter of firmware update.
But of course, after focusing don't forget to turn the camera back to photo mode, and don't dare to touch focus ring 🙂
Useful links and videos for Nikon shooters
Most of the above mentioned tricks work on higher end Nikon DSLRs, like D750 or D850.
I highly recommend watching Steve Perry's great video on the topic:
And here are my Nikon related videos: