Have you ever heard the "pro" advice: "Always shoot in Manual mode".
It's the worst advice!
Manual mode is excellent when you have time to set up the exposure, or when you use a flash.
But if you're just shooting everyday shots hand-holding your camera, it is painfully slow, and takes away the joy…
Instead of sticking to Manual mode, you should be taking advantage of its metering system.
In this article I will show you the "magical setting" with which you can stop worrying about setting the exposure time and ISO before every shot.
I use this setting ALL the time when I'm shooting handheld!
And this setting is:
Aperture priority mode + Auto ISO
Watch this video, or read the blogpost below:
In this post I will show you:
why Aperture priority mode is beneficial
what is Auto ISO, and how it helps you
how you can configure Auto ISO, so you never have to worry about ISO and shutter speed again
Using Aperture Priority mode
On Canon and Pentax it's the "Av" mode, on Nikon, Sony it's called "A".
In Aperture priority mode, you get to choose the aperture of your lens, and the camera calculates the proper shutter speed with the set ISO speed using its metering system.
For example, you set the Aperture to f/8, and the ISO is at 100, and the camera gives you a shutter speed of 1/100 second.
In the same condition, if you set the aperture to f/4, then it will give you a shutter speed of 1/400 with ISO 100.
The reason I prefer to use Aperture priority mode is that it's the aperture of the lens that controls the depth-of-field.
Depth of field refers to how much of the scene is in focus or out-of-focus.
For example, when I'm taking portraits, I want the face of my subject sharp, but the background to be creamy blurred:
This can only be achieved with a very wide aperture (eg f/2 – f/4)
But when I'm shooting landscapes I usually want to have the foreground and background be in focus at the same time, so I set a narrow aperture, eg f/8 – f/11.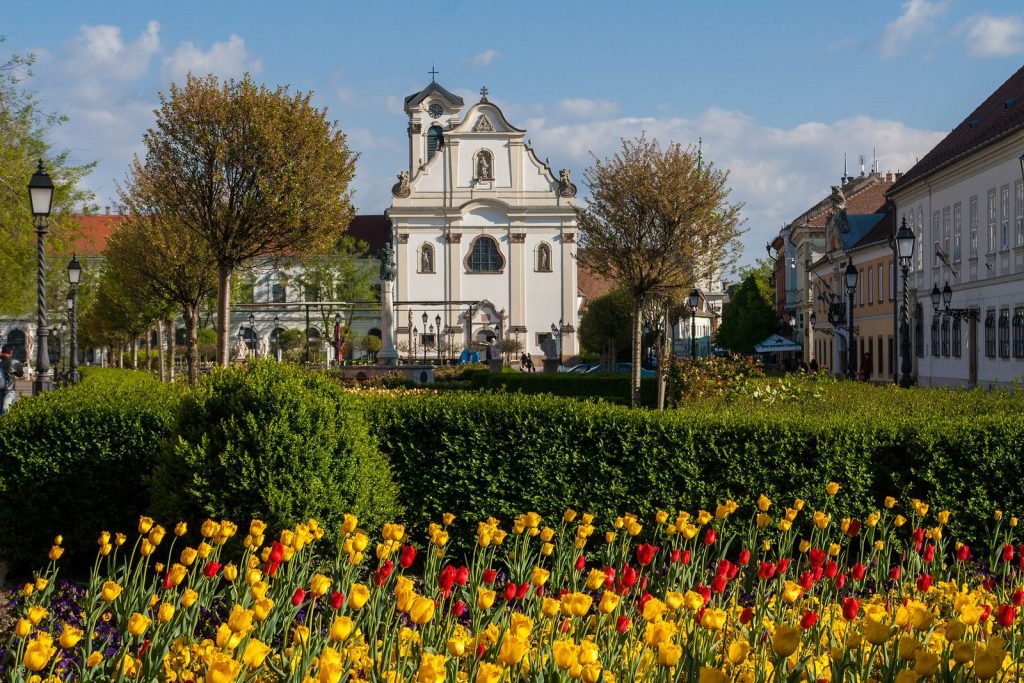 If there's not enough light and I'm using a narrow aperture, the camera will give me a too long exposure time that I will not be able to handhold.
This is when I should raise the ISO speed so that I can a fast enough shutter speed.
This means that I should be always keeping an eye on my ISO setting ans shutter speed to avoid blurry photos.
Luckily there's an easy solution for this…
Introducing: the Auto ISO feature
What does Auto ISO do?
Auto ISO does exactly the same: it always keeps an eye on the shutter speed, and if it goes too slow, then it raises the ISO speed to prevent long shutter speeds.
It works like a charm, and it's customisable!
Look at this: as I'm stopping down the lens, the camera automatically raises the ISO speed to keep the shutter speed faster than 1/60 second:
Let me show you all the possible settings of Auto ISO and how it can help you!
Interesting story about using Manual mode
I did a photo tour in Budapest with an aussie photographer. She had a Canon 5D II, and when it came to shooting, I couldn't help but notice how tense she had been.
She told me that one of her instructors told her to "always use Manual mode".
She took the advice, therefore whenever she took a photo, it took her seconds to find the proper exposure.
I could tell that she was not enjoying the whole process. She even told me that the whole experience of taking the photo is so frustrating to her that she doesn't really feel like going out with the camera anymore!
And then I showed her this trick (Av mode + Auto ISO).
Within minutes she cheered up, and noticeably started to enjoy the process of taking photos!
"Using Manual mode all time" – this an advice something that other clinically sane people find crap as well:
Quoting Chris Bay, from his Auto ISO guide article:
Unless you're under fixed, studio lighting, using complex flash setups or in a few other fairly niche situations, believe it or not, Manual mode is an incredibly archaic, slow and cumbersome mode to operate in.

Chris Bay
Configuring Auto ISO – minimum shutter speed
For this, go into the Menu, and ISO speed settings.
Once there, set the ISO to Auto. (For Nikon user see my tip at the end of the post)
Then, you usually have two options:
you can tell the camera what ISO range the Auto ISO can move in
you can specify what should be the minimum shutter speed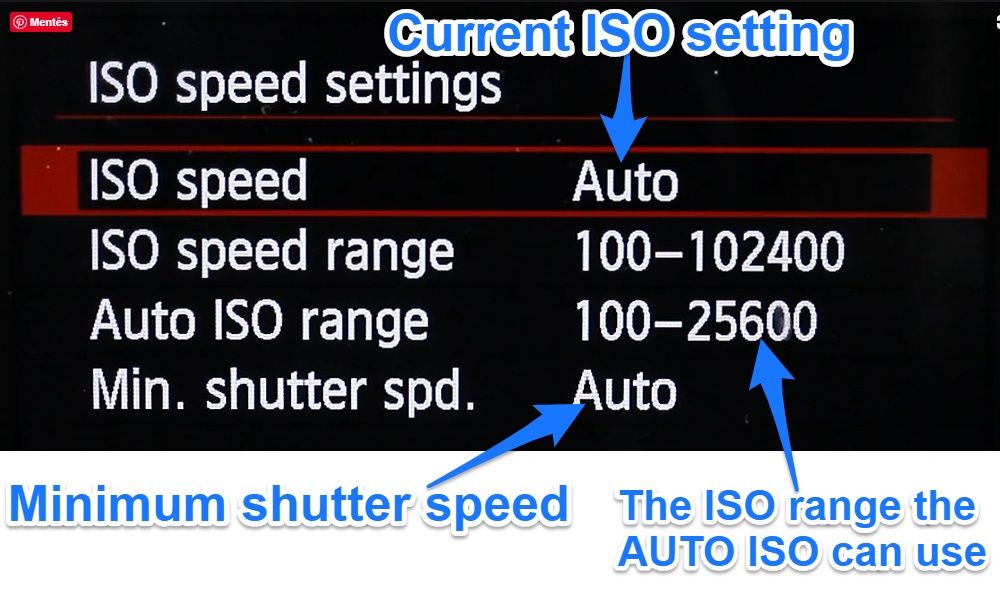 The "Auto" minimum shutter speed configuration
If the minimum shutter speed is set to Auto, then the camera tries to figure out what is the longest shutter speed you can handhold.
In most cases, the camera body is smart enough and communicates with the lens, so it knows the focal length.
Therefore, it will set a shutter speed around "reciprocal rule".
For example, with a 70 mm lens on a full-frame body, the camera will never let the shutter speed go slower than 1/60 – 1/80 second.
Or at 200 mm, 1/160 – 1/200 second will be the longest exposure time the camera will allow.
These values are quite "on the edge", especially with non-stabilised lenses. Meaning that there's a chance that you will handshake.
So with most of the higher end cameras, you can configure the Auto Minimum shutter speed as well.
You can tell the camera to have 1 or 2 stops faster or slower shutter speed, than what it would count.
So instead of giving you a shutter speed of 1/60 second with a 70 mm, it will give you 1/125 or 1/250 second.
Or if you have a stabilised lens (and stable hands), you can set 1-2 stops slower shutter speeds like 1/30 or even 1/15 seconds. Of course, this only works when you're subject is not moving
Setting the minimum shutter speed manually
Instead of letting the camera figuring out the optimal shutter speed, you can manually specify it as well.
For example, you can set it to 1/250 seconds.
This way, no matter what, the camera will always raise the ISO to yield at least 1/250 second exposure time.
You can see here that Aperture priority mode is set, the Auto ISO minimum shutter speed is at 1/250 second.
And as you stop the lens down (less light is coming in), the camera raises the ISO speed to obtain at least 1/250 second:
This means that:
In Aperture priority + Auto ISO mode you just compose, take the shot, and the camera takes care of everything else! Exactly what you need when shooting handheld.
Click To Tweet
You just compose, and take the shot, the camera takes care of everything else!
What if this minimum shutter speed is not enough?
On newer cameras, you even have more options, and you can select virtually any shutter speed.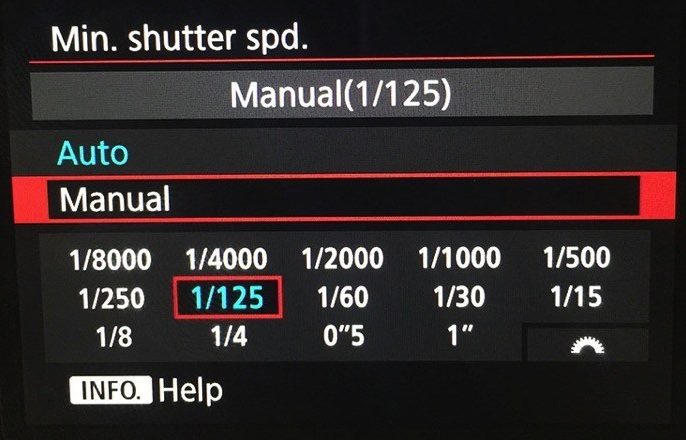 For example, for shooting sports with quick action, you could configure the minimum shutter speed even up to 1/8000 second.
But what if your camera doesn't have this option?
What if you're shooting fast action, but you cannot set a fast minimum shutter speed? (This is typical with older cameras).
Here's the solution – or a "hack" I should say:
Using Auto ISO in Manual mode
In Manual mode the camera normally works like this:
You set the ISO speed, the aperture and the shutter speed, and the camera does not ever change any of these.
But here comes the trick!
Auto ISO works in Manual mode as well.
So let's say you're shooting a sporting event, and you want really fast shutter speeds no matter what. Let's say 1/1000 second.
On older cameras (like on my Canon 6D) in the Auto ISO settings, there's no 1/1000 second minimum shutter speed.
But you can "hack" the system.
put the camera into Manual mode
then set the aperture you want to work with (eg f/5.6)
set the shutter speed (eg 1/1000 second)
and set Auto ISO
This way, every exposure you take will have the same aperture and same shutter speed, BUT the camera will change the ISO automatically to adjust for the brightness change.
Isn't it controversial: automatic setting in Manual mode?
But it works, so who cares! 🙂
This trick is very useful with older cameras that do not allow you to set the minimum shutter speed in the Auto ISO settings.
The crazy Nikons: Auto ISO is bugged!
The Auto ISO feature on the Nikons is a bit tricky. For some reason you can only set in a weird way…
On most Nikon cameras, if you press and hold the ISO button on the top:
with one dial you change the actual ISO speed
with the other dial you activate / disactivate the Auto ISO
I have no idea why, but if you activate the Auto ISO function in any situation, the ISO speed the camera last has been will remain there.
And that ISO speed will be the lower limit of the ISO on the Auto ISO.
So for example, if you see "ISO8000 – A", this actually means that the camera is on Auto ISO, BUT it will never allow an ISO lower than 800: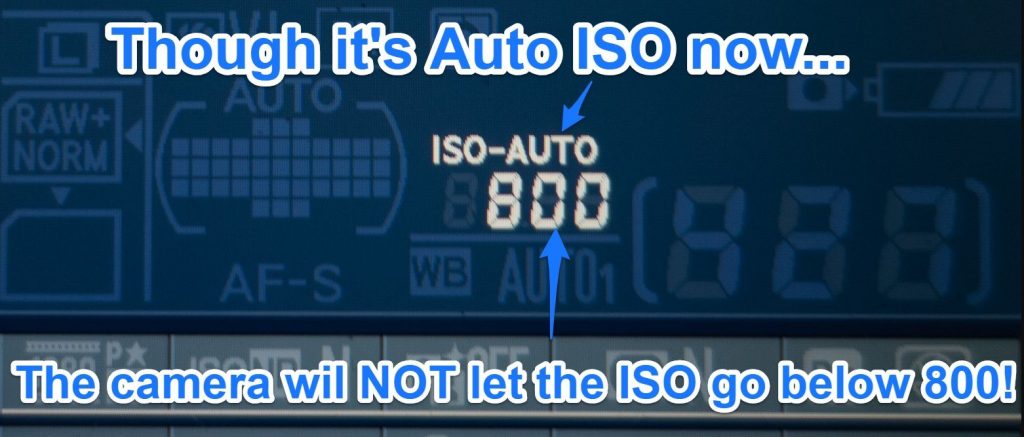 Therefore, the whole point of the Auto ISO is lost.
(Quite funnily, the official Nikon USA site on Auto ISO fails to mention these things…)
To sum it up:
The Auto ISO setting on Nikons is quite confusing. Here's how it should be set up:
first set the ISO speed to 100 and
then activate the Auto ISO function.
This way you can ensure that the whole ISO range will be used in Auto ISO mode.
It's an extremely confusing bug, and I have no idea why Nikon works like this…
By the way, I'm not the only one who finds this strange: Chris Bay in his Auto ISO guide article calls this behaviour of Nikons "extra level of confusion".
Summary
Auto ISO function is found in nearly every camera, and it does the same:
Elevates the ISO speed to a level that gives you fast enough shutter speed.
On most cameras, you can configure the minimum shutter speed.
It can be either "Auto", or it can be manually given.
My advice is to use the Auto ISO in Aperture priority. This way you get to control the depth-of-field as well, but you have never worry about setting the ISO speed.
What's your experience with Auto ISO? Do you use it?
Tell me in the comments please! 🙂