Hi, I'm Miklós Mayer, a hungarian photographer guide. What the heck is a photo guide?
I show fellow photographers the best spots in my home city, Budapest. And not only do I take them there, I also teach them how to have the best results with their own camera.
I love it – I meet new people everyday from different corners of the world, and for many of them I make photography more fun for them.
One of my guests, Jennifer left me a message after a night photo tour:
"Hey! How are you?
I just got your email about the night photography mini course for lightroom.
Just from that one night I feel like I have improved my photography a little. I don't feel like I am taking as many shots to get a 'good' shot. I am definitely having so much more fun taking photos and I don't think I am a terrible photographer like I did before. So all in all, it's been a really positive experience."
– Jennifer C. from Australia
Also, I'm always fascinated how lovely reviews my guests make on Tripadvisor. These are the things that make my day…
This took me years to achieve, so read on…
But let me first tell you my story in photography
I still remember the joy I felt when buying my first DSLR in 2009. It was a Canon 1000D, the cheapest DSLR you could get at that time.
'Finally I can take awesome pictures, like those pros on the internet' – I thought.
I was very confident, because ever since I was kid, the family film camera was on my neck.
Off I went into my favourite forest to shoot… But most of the pictures sucked!
'What am I missing?'. They lacked color, lacked sharpness, and just basically wasn't pleasing my eye.
Then I took a few portraits of my then-girlfriend. The pics turned out okay, but it was because of the model, not because of me.
I felt miserably that although I have my dream camera, I don't have control over the quality of my images.
Then a 85 year old portrait master kicked my ass
His name was Martin Szipal, a legendary portrait photographer from Hollywood. I enrolled into his portrait lighting course.
It changed EVERYTHING. Martin was obsessed with geometry, angles and cropping. His favourite tool was a scissor to crop the shitty pictures 🙂
I realised here 3 things make a good picture:
Lighting
Composition
Processing
That's it, nothing else!
Not just portraits have to be well lit, landscapes too!
Geometry and angles what capture the viewers attention, and lighting brings out the forms, shapes.
Small pieces start to get into one
I became conscious of what and how I'm shooting. I was experimenting on every field:
by shooting dance parties for years I turned into an expert in using external flashes
by shooting weddings, although they were terrifyingly stressful, taught me how to instruct and handle people
I got more and more confident in shooting and post-processing.
Then I saw a timelapse video that set me on a path.
It was Learning to fly by Tom Lowe. I fell in love with timelapse photography, and started doing with a lot of energy.
There was a lot of trial and error, lots of hours of being stuck in front of the computer, but after a few years I figured out what works, learnt the shortcuts, and was confident in making timelapse vids.
Here are my 2 favourites:
This one is about Tenerife island, that I visited in 2011:
The funny thing is that my wife fell in love with me because of that video! 🙂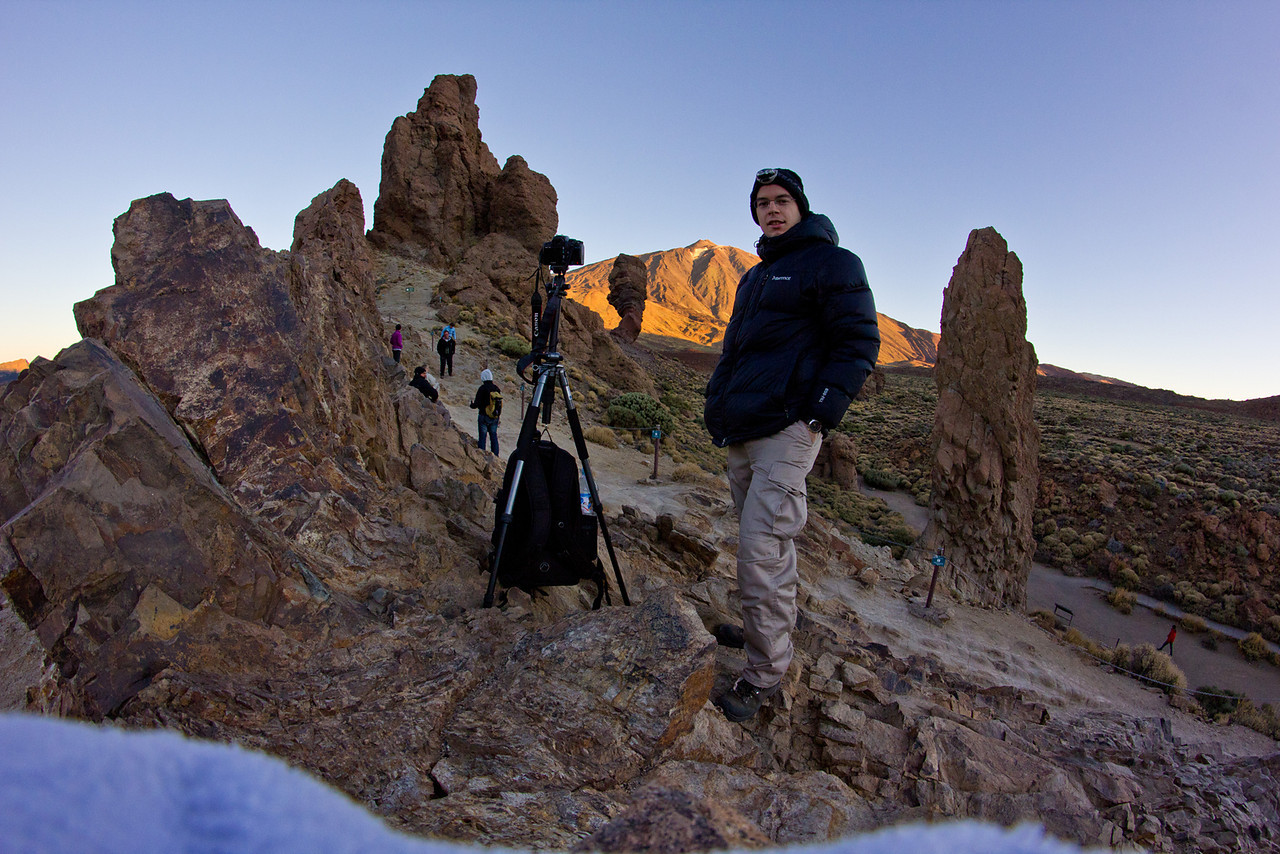 This one was published in 2013, but the footage is mainly from 2011. This got viral on the hungarian internet, and I was finally recognised as an expert timelapse photographer.
From blood samples to photography
All this time I was just a hobbyist: I had my "normal" 9-5 job in the pharmaceutical industry. I was measuring drugs in blood samples with ridiculously sensitive and expensive instruments.
But it didn't satisfy my brain, and was feeling the constant urge to follow something more creative.
So soon after my son was born I quit my normal job, and everybody said I was crazy. And luckily I was!
Time to start a business: photography guide
Luckily my home town, the capital of Hungary, Budapest is one of the best cities in the world to shoot nightscapes. It's definitely the best in Europe.
So I figured: what if I showed fellow photographers the best spots in the city, and at the same time teach them how to shoot night pictures?
So I established Photo Tours in Hungary, offering private photography tours in and around Budapest.
After 3 months of having no guest at all, the business started to slowly gain traction… My really guests loved it, and I'm always blown away by the fact that so far everyone gave the highest rating on Tripadvisor (thank you guys).
Photographers are coming from all over the world. Different age, male, female, couples, but we all share the same passions. Sometimes total beginners who just bought the camera or seasoned pros.
I don't say this to brag, but I was able to show new tricks to everyone, even the pros (they told me).
This is because I've had to use almost all models of cameras, and gained a huge amount of experience.
It became clear to me on the tours that many people fall for nonsense misbeliefs spread by "internet gurus". Some of my favourite superstition-like scripts:
you have to have a DSLR to be a pro
Canons have more detail in the shadows (eg should be underexposed), the Nikons have more details in the highlights (eg should be overexposed)
You MUST shoot in RAW, otherwise you'll get to hell
You MUST ALWAYS use Manual mode, and have to dabble with the settings no matter how smart your camera is
NOOOO! Please!!!
I've shown many people on my tours, that photography should be fun and it's a lot easier than most believe.
My mission is to clear people's heads of these things, and to share my knowledge with them.
I give away 98% of my knowledge for free. Whenever I try a new technique or face a challenge I write a new blogpost about it, and send a newsletter out. So you can try it at home, too.
By the way, I really encourage you to subscribe to my newsletter, as I don't use any social media platform (besides Youtube).
If you click on the Subscribe button below, you'll also get to download my "Tricks to use your camera like a PRO, and enjoy it" PDF, which has many small tips that can make your life easier when taking photos.
Subscribe and download PDF
Started a Youtube channel, too
I've started making photography related tutorials for Youtube just for fun… And also, to learn video making, and to be a better storyteller.
My goal is the same here as with the blog: easy to understand, straight to the point videos that resonates well with those who are just starting in photography.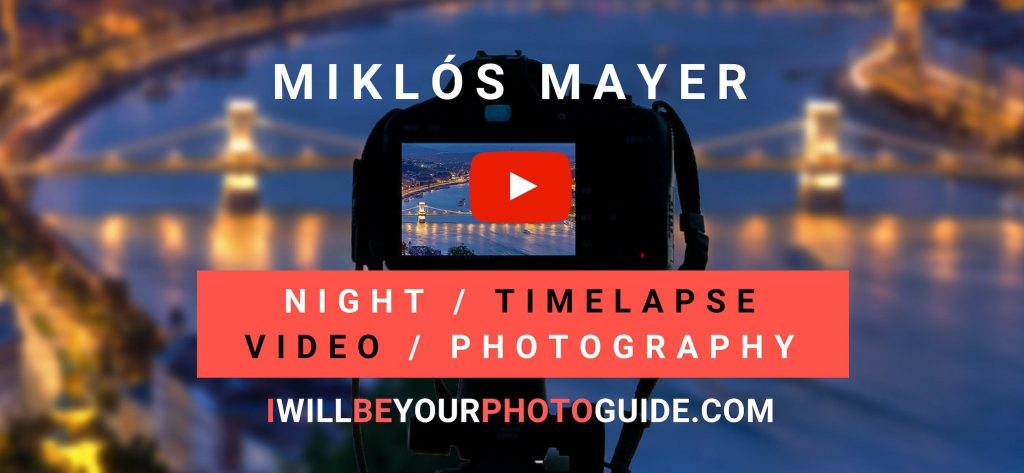 Contact me here