Smugmug.com is a premium photo sharing service that allows photographers to be able to host a professionally looking site with tons of photographer friendly features. Smugmug takes care of proper storage of the original photos, displays them in the best possible way, handles print sales automatically, and the list goes on…
I've started using them in 2009 and now with 11 years of experience I share every thing I love about Smugmug.
Not too much stuff to be disliked, luckily.
So if I have to summarize it, I LOVE Smugmug: it makes my photography workflow so much easier.
Here's my list…
Why Smugmug is better than Dropbox or any other cloud storage?
Smugmug is designed for and run by photography loving people: everything is image and gallery centered. While "simple" cloud storage platform like Dropbox or Google Drive are more for everyday general use, Smugmug optimizes everything for the photographers.
For example creating multiple display copy sizes, ability to sell print, protection of photos and gorgeous website design.
So what are those features that set Smugmug above the competition?
After using them for 11 years, here are my favourites.
Though I'm raving about Smugmug in this article, this is not a sponsored post. Although there's an affiliate link at the end, I wouldn't recommend it if I hadn't been happy with it.
Key features of Smugmug I love
Original + resized images automatically
This is the key feature that sets Smugmug apart from the normal cloud based storage services:
I can always download the ORIGINAL files, Smugmug never compresses it.
And they allow HUGE jpg files: maximum 150 megabytes and 210 megapixels per photo are allowed. If it's bigger, then they'll try to resample it.
Okay so far, Dropbox also knows this.
But now comes the real deal….
Smugmug even creates 12 smaller and sharpened display copies of the original JPG.
Why is this good for?
Because with this Smugmug always diplays the picture that's closest to the viewing size. This results in faster loading times, and high-quality viewing experience.
As far as I know, Squarespace also does something similar, but they never ever allow you to actually select between the display copies (and link to them).
There are even keyboard shortcuts for best photo browsing experience:
Left/Right Arrow Keys = Prev/Next Photo
Shift + Left/Right Arrow Keys = Prev/Next Page of Thumbnails
A = Bring up Lightbox view of photos, Autosize photo
S = Lightbox, Small
M = Lightbox, Medium
L = Lightbox, Large
1 = Lightbox, XL
2 = Lightbox, XL2
3 = Lightbox, XL3
O = Lightbox, Original
X = Exit Lightbox
Update for 2019: Smugmug removed the image selector button from the Organize panel mode. This is a serious set-back for many users, and I don't know why they did this.
Luckily they have left the image selector icon in the "normal" Lightbox mode that the visitor see.
I've reached out to them many times telling them that they should not remove this particular feature, I hope they'll listen 🙂
Unlimited uploads
Nowadays, that's a biggie. Here's how many pictures I have at Smugmug after 9 years (I'm storing many timelapse sequences too):

Whenever I've finished a shooting section, I just upload everything into a new gallery. Therefore after 9 years, it's my Smugmug account where my pictures are ordered, not my computer.
Smugmug is using Amazon S3 cloud to host our photos. According to them, this is easily the safest way for a photo storage.
Screen filling galleries
At Smugmug, Galleries hold the pictures. So you can't just upload a picture, you have to have a gallery first, and then upload.
There are 6 types of gallery templates, all filling the screen perfectly. In each scenario Smugmug detects the viewer's browser's resolution and automatically shows the display the copies that are closest in size.
The Gallery templates:
"Smugmug" (this is the default):
Thumbnails neatly arranged on the left, while active picture in big on right.
I don't use this template anymore because many people have trouble navigating it: some people think that the small thumbnails are the pictures. I know this sounds ridiculous, but this is what I've noticed…
"Thumbnails":
"Collage Landscape":
My most used template. Ideal to exhibit many landscape style shots in one go. Look how the aspect ratios vary, but it still feels very ordered.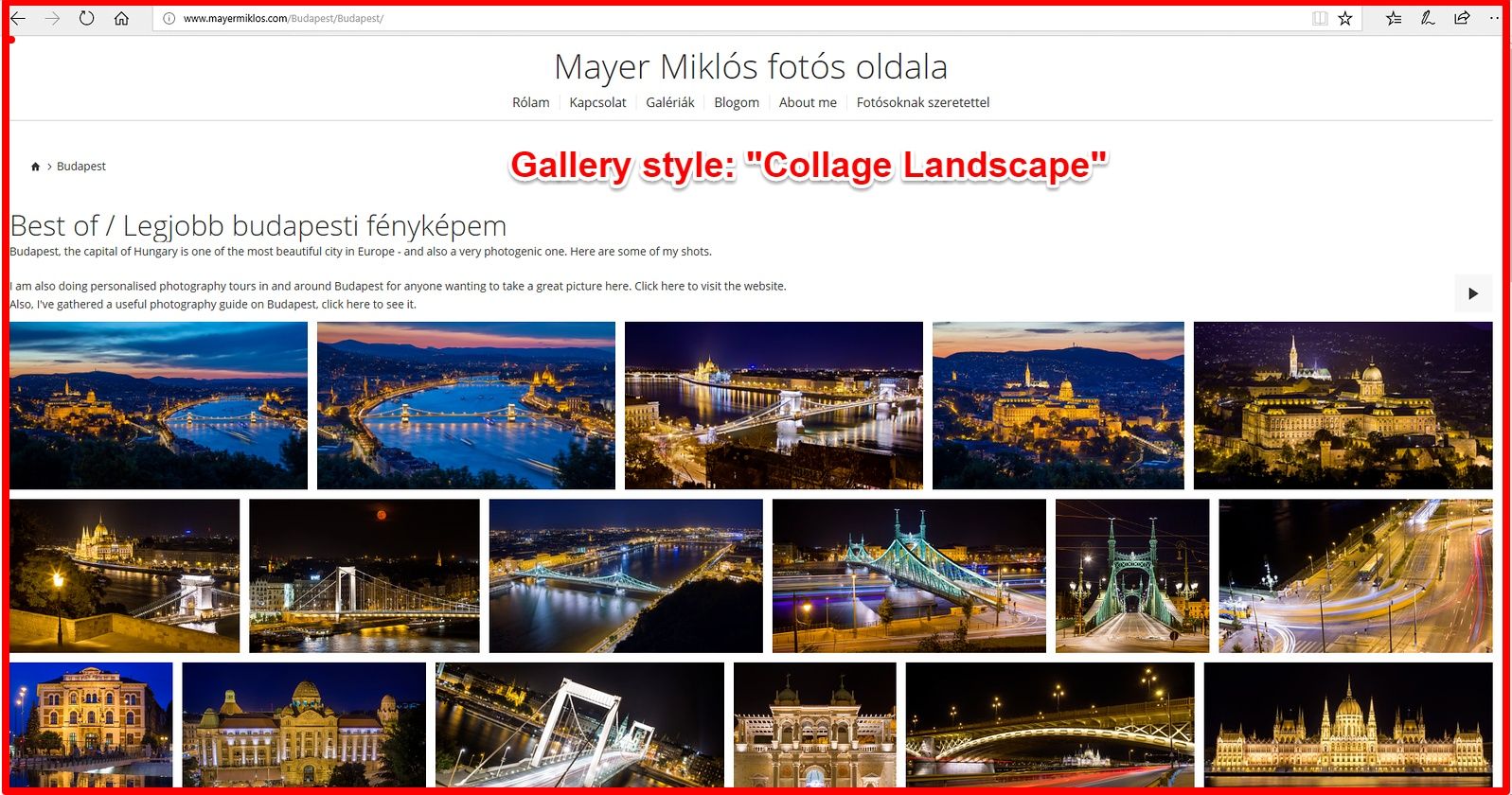 "Collage portrait"
Obviously works best for portrait style pictures.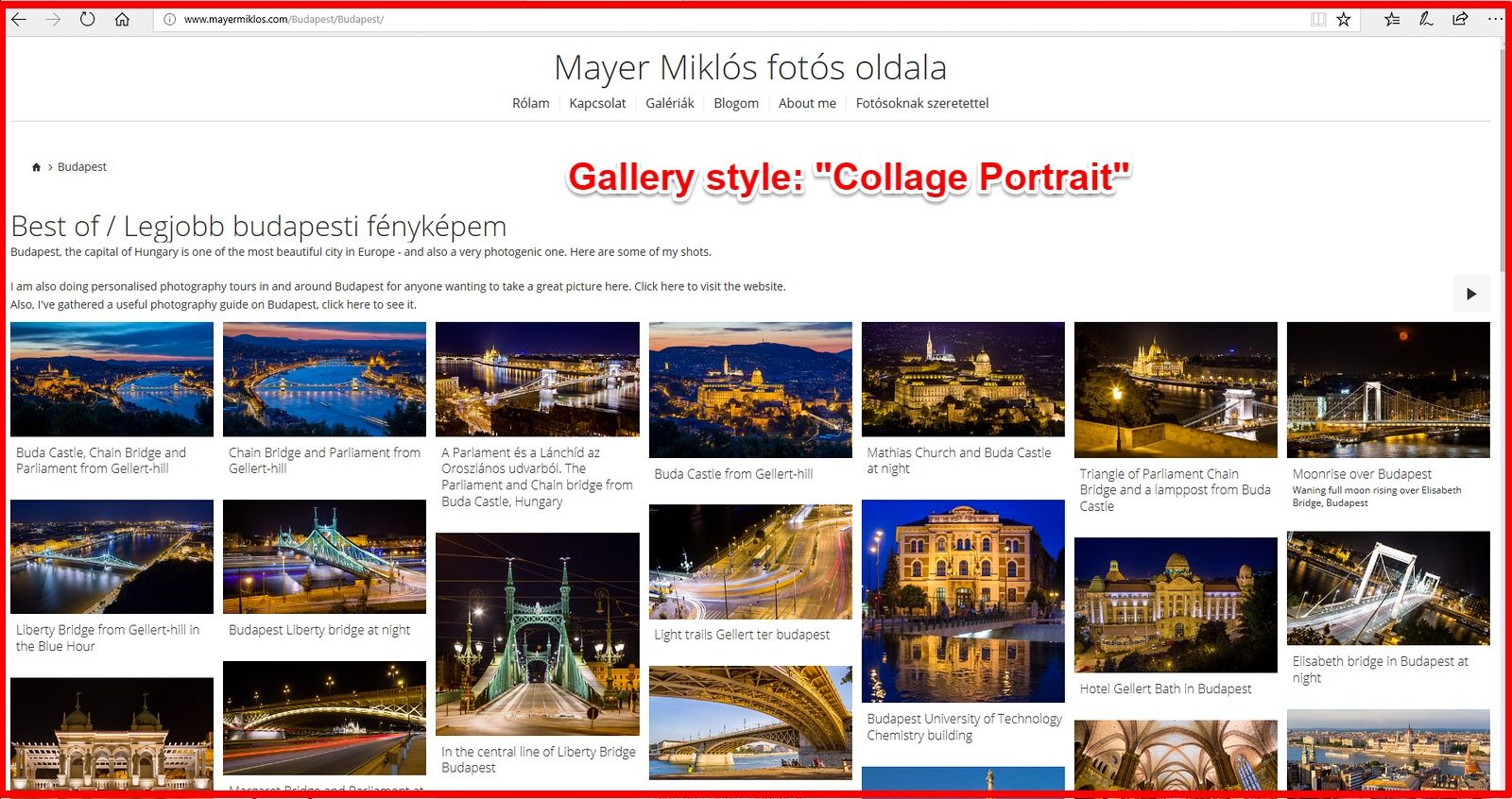 "Journal"
Here the pictures are below each other, with each one being as wide as possibly can. Best for panos in my view. Have a look at my pano gallery here.
Also great for teling stories where you want people to see the captions at the same time they see the picture.
"Slideshow"
Never ever used it, and I don't think anyone should use it either…
Beautiful and fast loading websites
Every photographer wants to see their beloved pictures being exhibited in the best way…. Well, with Smugmug the beautiful design is built-in: no matter which gallery theme you choose, it looks very impressive and ordered.
Not just the galleries can be customized: the whole website can be customized. If you ask me, you even have too many possibilities to tweak it.
Luckily there dozens of pre-made templates you can choose from:
A few famous photographer, who's using Smugmug:
Extremely easy to organize and upload
At Smugmug there are: Folders, Galleries and Pages. As I mentioned earlier, pictures can only go into Galleries.
And Galleries have to go under Folders. The Folders can be nested at 7 levels deep I think.
That's it.
This is how it looks in the Organizer panel: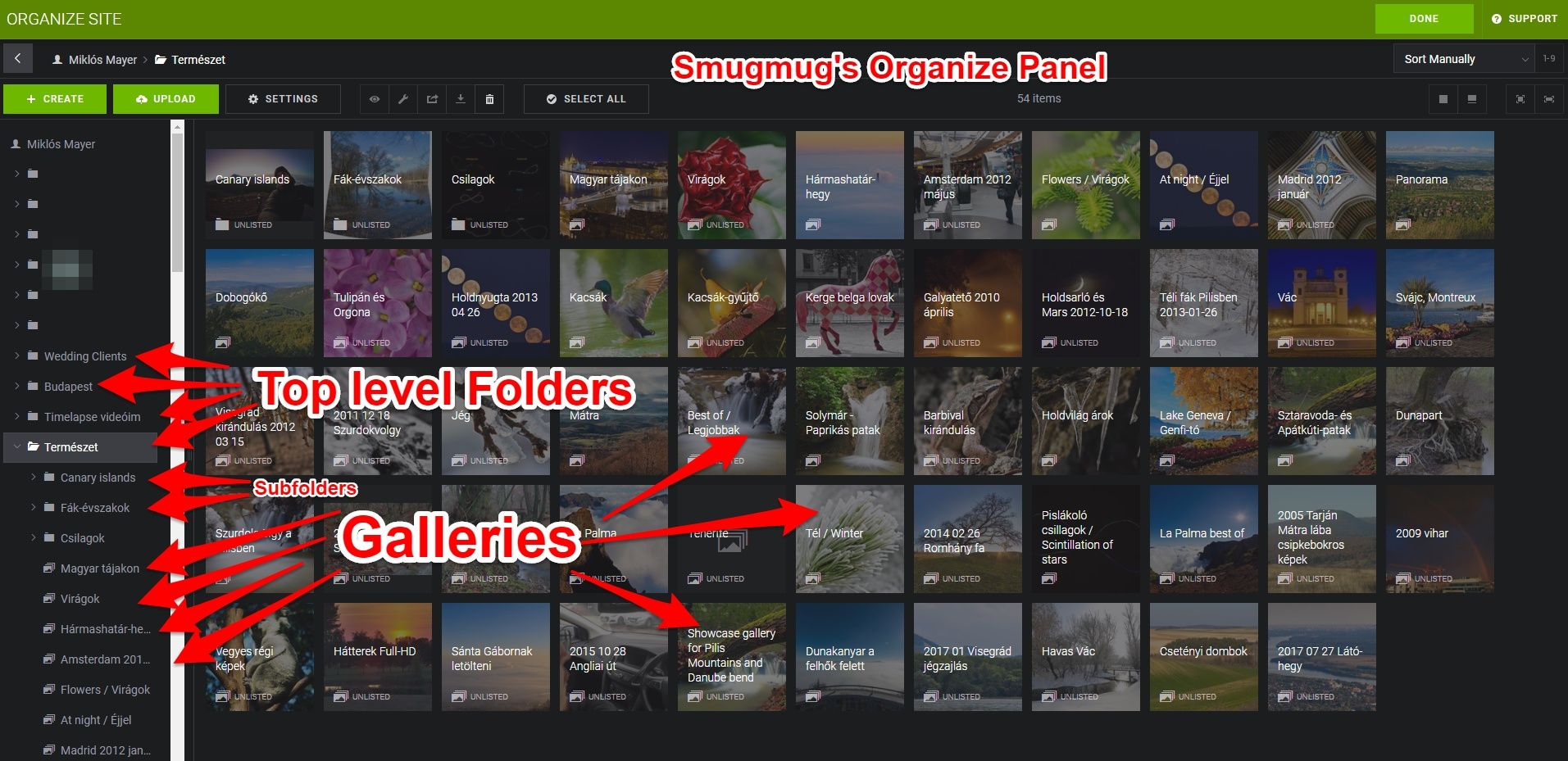 Note, that the Organizer panel is the backend of the Smugmug site, your visitors never ever see this.
Ok, but what if you have lots of pictures on your hard drive in lots of separate folders? Do you have to create all the folders, galleries, and upload the pics manually?
No!
With Smugmug, you can actually drag a whole folder on your computer, drop it into an exisiting Folder, and Smugmug will automatically create all the sub-folders, galleries and so on.

I used this feature when my wife asked me to save her photo archive of 30 years. There were enormous amounts of folders, as she categorized everything. Luckily with Smugmug I just dragged the top-level folder and I was done.
Oh, and have mentioned that upőloading pictures to a Gallery is just a single drag and drop movement? You don't even need to click on "Upload", it"s enough if you drag the files over.
Photo protection at highest level: setting max display size, watermarking
Most photographers, especially those selling prints, would want to limit the maximum picture size that's shown. At Smugmug this can be set in the Gallery settings with a click:
I usually set this to X3 or X4: this gives enough resolution for great photo browsing experience, but it's still small for people to steal it (they do it anyway though :))
Also, the pictures can be right-click protected as well, meaning that the only way to save them would be by screenshotting them.
And the protection doesn't even stop here…
Pictures can be automatically watermarked by Smugmug!
This means that the original version of the photo is un-watermarked, but all the other display copies are watermarked.
For example, these pictures I shot at different dancing festivals are all watermarked by Smugmug: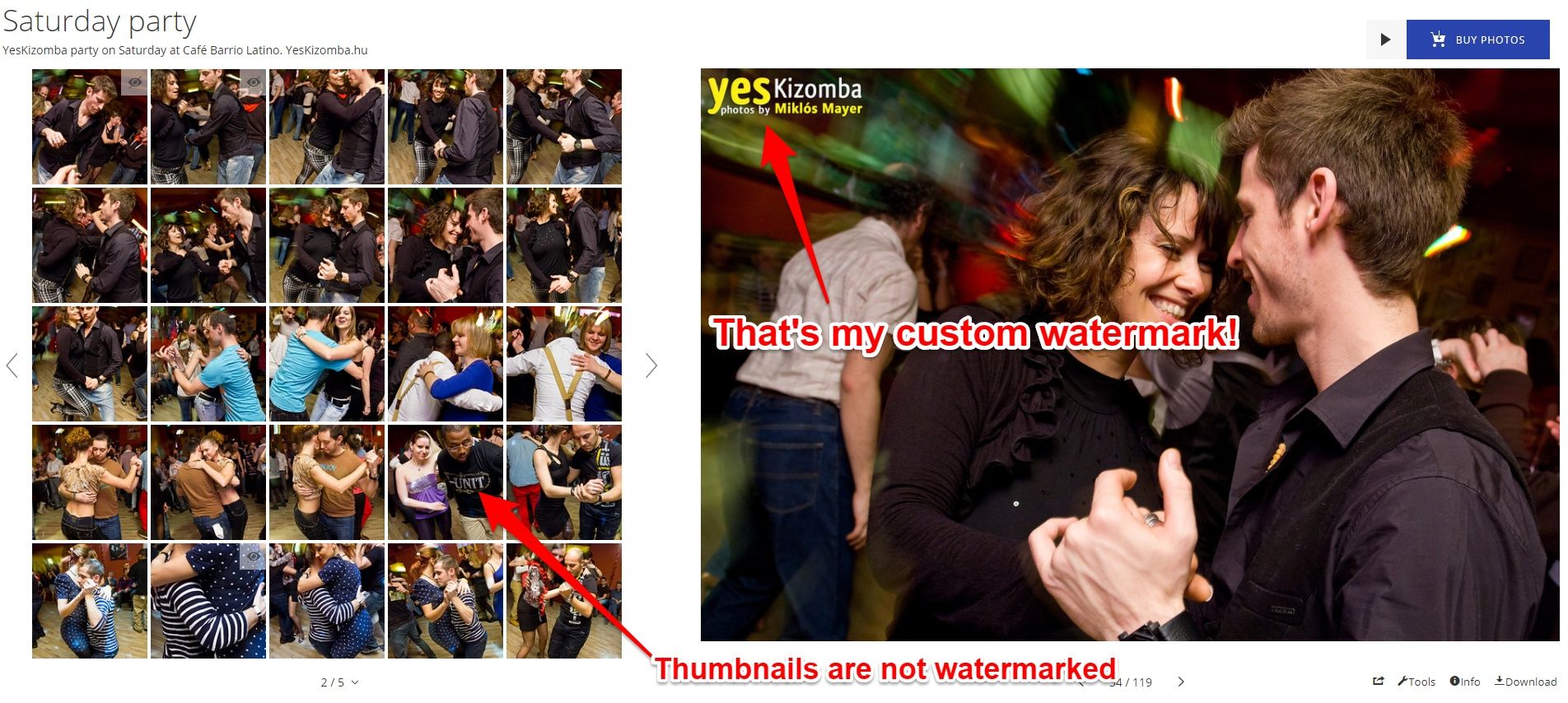 Obviously, I had to create the watermark first as a PNG file, and then upload the pictures.
The system automatically removes the watermark, if it's printed, or bought as a digital download.
Variable levels of privacy
These features make it extremely easy to create security at more than one level.
At Smugmug, there are "Visibility" and "Access"
Visibility can be:
Public
Unlisted: Only those people will see the gallery, who know its exact link. Smugmug employs a 6 digit random letter combination into the end of URL. The gallery will not appear on your website as well for any visitors (you'll see it though once you log in)
Private (only by me): only the logged in Smugmug user of the site will be able to see the gallery
To add on top this, there Access levels to each Visibility:
Anyone
People with password
People I choose (this is the strictest one)
It can also be set if I want my gallery to be indexed by Smugmug or by search engines.
Sharegroups: sharing multiple galleries
I shoot at family events and put the pictures into Galleries that are ordered by date. I always set the Visibility of these galleries to Unlisted.
This means I can send the links of the galleries to my family members, but they would only see one gallery at a time.
That's when the Sharepgroups feature comes into play: it makes me able to share multiple unlisted galleries in ONE, non-public link.
Bulk gallery download
Why would I want to download everything that I already uploaded?
There can be numerous cases when I'd need that: maybe the pictures are from different sources, or they are old and don't have access to the source files, etc…
I use this feature ALL the time. I have neatly organized my pics into a gallery, just click on a button, and Smumgug creates a zip file for me that I can download. Even better, sends me an email with the download link.
This very download link I can easily send to my clients as well, so they don't have to download the pics one by one.
Even better, the clients or viewers themselves can download the whole gallery if I enable them:
And how it looks on the viewer's side:
Sell prints and earn money EASILY
Printing is one the key features of Smugmug that makes it a photographer's dream come true.
I can set my own prices on the prints!
For example, if I'd like to sell a 30*20″ Lustre print, then the price the lab charges is just around 23 USD. But I can set the selling price anywhere higher than this.
And I don't even have to do it one by one for all sizes! There's a bulk pricing editor, where I can pick my Base profit to be "500% above base price" or something similar.
Smugmug takes just 15% commission on the price difference between the actual print price and my set price.
For this I get: quality printing from labs around the world, order and checkout handling, packaging, and so on. If someone orders a print from me, I really do not have anything to do with it, it's all automatic.
Here's Michael Shainblum's print shop in action: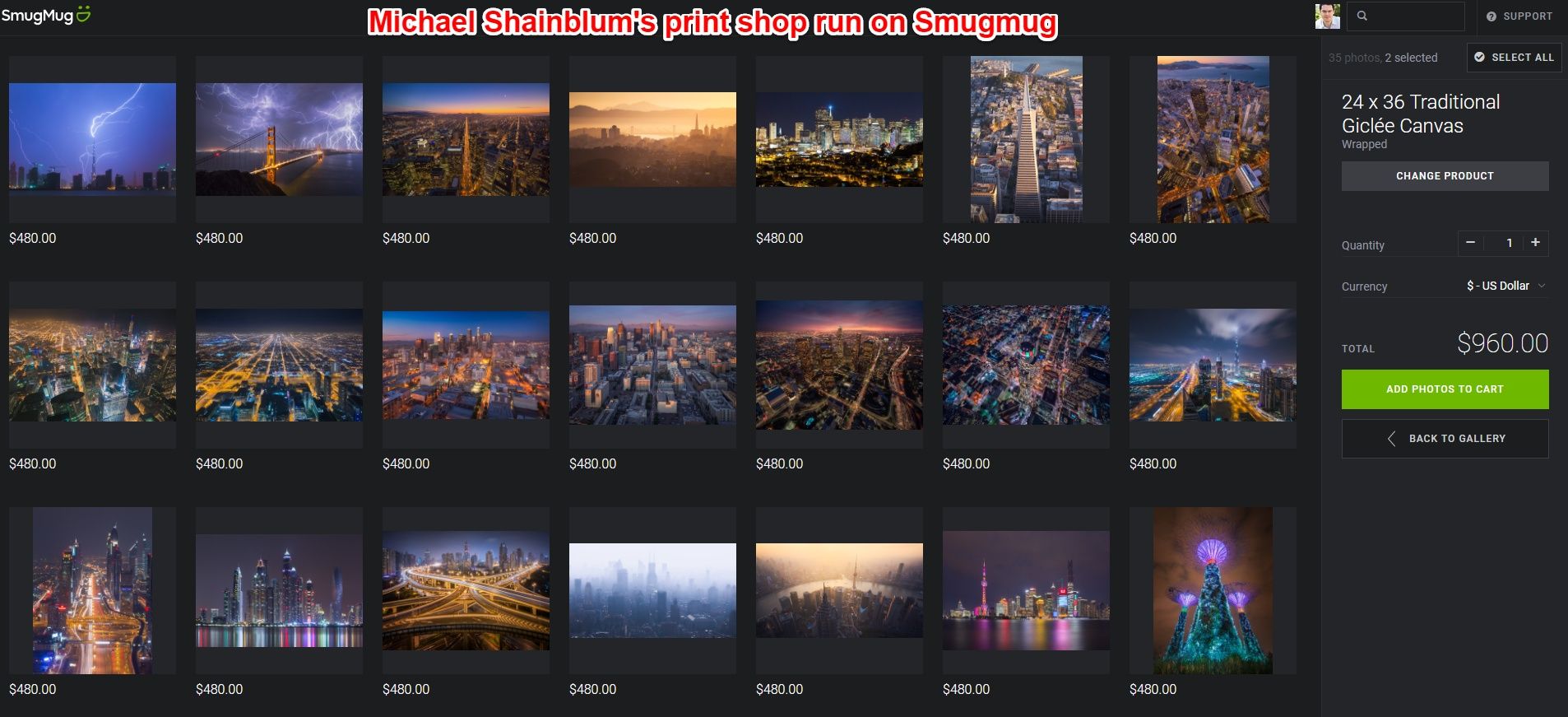 But what if I'd like to order prints from my own website? Will I need to pay the higher price then?
No! If I'm logged in, I see the basic Smugmug prices, not my custom set prices. So I can order prints from my website at normal price.
For those photographer who are really serious on selling (like landscape photographers who do weddings as well), they can even have more Pricelists in place, and apply a different pricing to each gallery.
Easy sharing
Be a single picture or a whole gallery, sharing is extrelemy easy.
When sharing a single picture, I can select which display copy I want to have the link to. Or the embed code: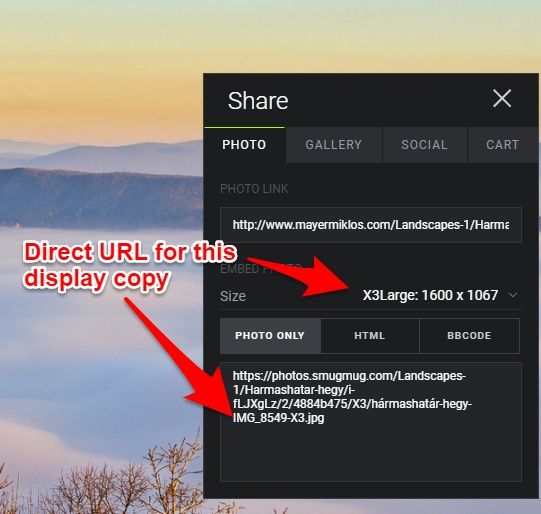 Or I can easily share a whole gallery on Facebook, and can select which sized display copy should go to FB:
Smart galleries
These are especially like in Lightroom: dynamically updated and put together pictures that fulfill certain parameters.
At Smugmug, you can filter by:
Keywords,
Date taken
Geography
Source Gallery
Extremely handy for pro event / sport photographers who have many pictures.
Here's a great article from a sports photographer using the combination of Smugmug and Lightroom to make selling easy.
Pages feature
Pages are webpages that can be 100% customized to your taste. You start from zero, and can really do almost anything.
If you've used Squarespace, it's a bit similar to that, although in my opinion Squarespace has a lot more pleasant user experience (mind though, that's a dedicated website builder)
My About me page is such a Page too.
Or every tutorial's sales page at Beboy is such a Page
Here's a screenshot what it's like to customize a Page on Smumug: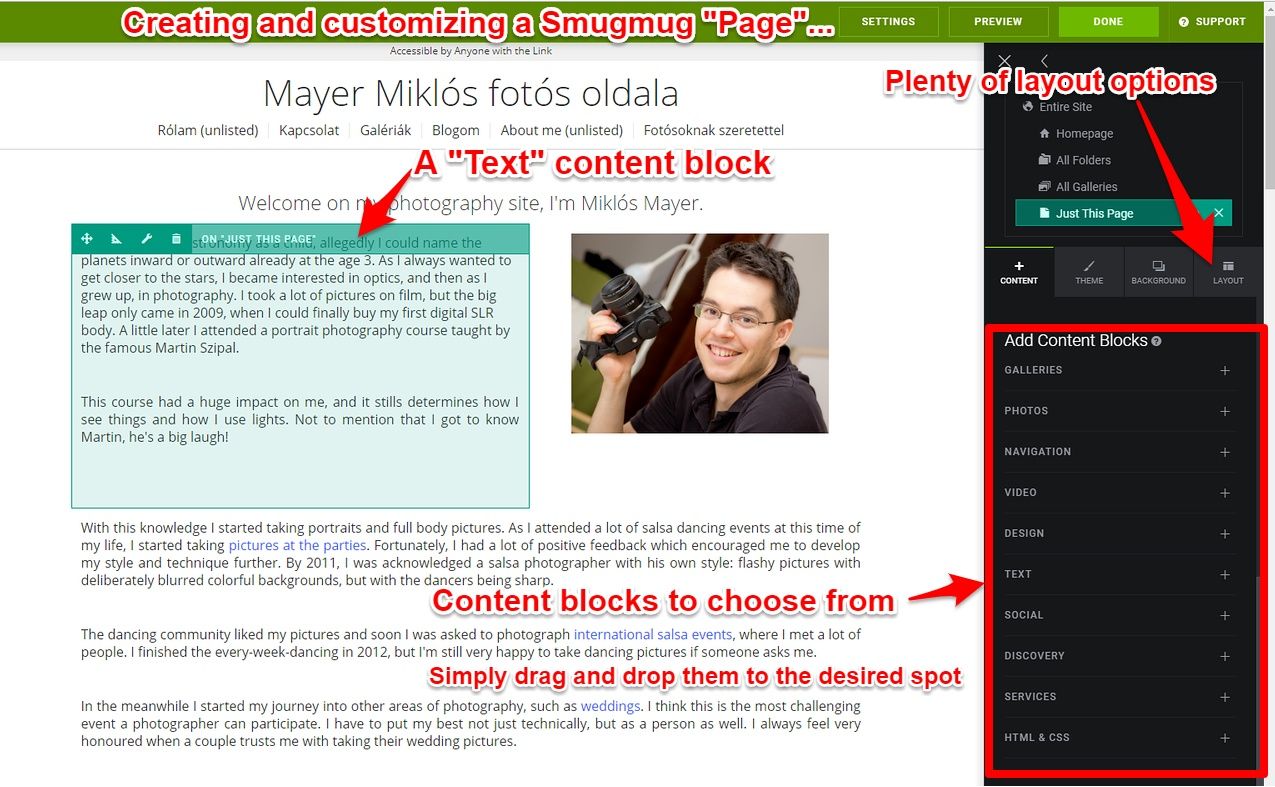 Email support within an hour
I've been emailing them so many times, and they never failed to help me out. And I live in Hungary, which is California + 9 hours, and I never felt the response lagging.
It turned out that they have support heroes all over the world 🙂
It's free for me! – awesome affiliate program
Smugmug is NOT free. And luckily it is not. Quality products should have quality prices.
But, they offer a world-class affiliate program, which, if used right, can make it FREE.
Let me explain how it works.
Once I started my yearly plan, they gave me an affiliate link:
If some one registers to any yearly plan on Smugmug through that, it will cost them 20% less, AND I receive a commission of 20%.
So simple and cool!
For years, I didn't have any ide what to do with this. Then I started my hungarian blog, wrote a comparison articdl about photo sharing sites, where I put my link to. And people found that articel, they liked the features of Smugmug (first 14 days is always free), and registered for a yearly plan.
That is how I don't pay anything for the third year now. And if it stays like this, I will probably never will 🙂
What I don't like in Smugmug
Limited file formats supported
Natively only supports JPG, PNG and GIF. If you'd like to archive the RAW files, or upload any other file format, you can't.
They used to have a service called SmugVault, where RAW or TIFF files could be uploaded as well. But this service doesn't exist anymore.
Key feature, Sharegroups is hidden
I've mentioned above how many times I use sghare groups. It's ridiculously hidden! It should be in the Organizer panel, not at Account settings.
From the organizer panel, you need to click 5 times to get into thee sharegroups panel! It feels unlogical that this is separately from everything.
It's nowhere near a real website editor
Well, Smugmug claims that I would even be able to blog on their platform, but to be honest it would be a painful experience….
The Page builder is a great drag and drop editor, but I have to start from zero EACH and every time. No template can be saved, neither can an existing Page be duplicated.
Also, you would think that the contents of a text block would be copied easily, but no… Links and every other formatting is lost on copy-pasting.
This shows that Smugmug is clearly not designed for easy web content creation. If you're more into a website builder that supports big images, Squarespace or a photography-friendly WordPress theme will suit you better.
I see many photographers have a "normal" website for example on WordPress, and have their Smugmug site on another domain.
Can't insert Javascript code
This is a rather minor drawback: would be useful it was possible to inject Javascript code into the header tag. This would allow users to use third party softwares, for example AddThis on their site.
Summary
Smugmug is the leading photo sharing service, already trusted by many pro photographers world-wide.
After using them for 9 years, I highly recommend it to any photographer. Really everyone, from pro to casual shooters.
I even recommended it to my mother-in-law, who is just randomly shooting at family events, but always complaining that couldn't get all her pics to Google Drive 🙂
To give you a recap, the key features of Smugmug are:
unlimited storage
accessible original picture files
12 display copies automatically generated
gorgeous, screen filling websites
easy uploading and organizing
ability to protect images
multiple levels or privacy setting
easy selling: everything handled
easy sharing
ability to create Smart Galleries
own domain
excellent email support
rewarding affiliate program
Try Smugmug for free and save 20%
Follow the link below and try Smugmug for FREE for 14 days. After this, if you like them, you can switch to a paid plan with a 20% discount off (that's because of my affiliate link). Yes, I do get a commission from it.
Try Smugmug for FREE for 14 days
Useful links
Viktor Elizarov's review on how he uses it Smugmug in his business
Review of Smugmug on Cole's Classroom
Spencer Cox's review on Photography Life
Benjamin Von Wong on shooting Smugmug's employees
Customization CSS codes from Aaron Myers
Do you use Smugmug? What is your favourite feature?