The purpose of this site is to collect all photography tour guides, photo workshop organizers, onto one platform.
So that travel photographers can see a list of places and tour operators on one site.
In the "photography location guides" section, there are detailed photo guide articles of each city or area. For example this one about Budapest here. These writings help travelers in
finding the best photo spots and subjects
planning their timing
getting to the spot
The articles here are always written by pro photographers, photo tour guides who are operating tours in that specific area.
If you are photo guide or tour operator I invite you to post a "Best photo spots of city XY" on this website (and yours too!) If you already have such an article, it's almost just a copy-paste.
Why is it good to have a detailed "best photo spot of city XY" article?
I recognized that many of my guests are searching on Google for terms like "best photo spots in …" or "photo locations of ...". And such an article would come up first places on searches like this.
And in the article there is always a highlighted box, saying something like "As a local photographer I offer personal photography tours in and around Budapest, where we explore many of these spots. Read more about them here". And then there's a direct link to that guide's website.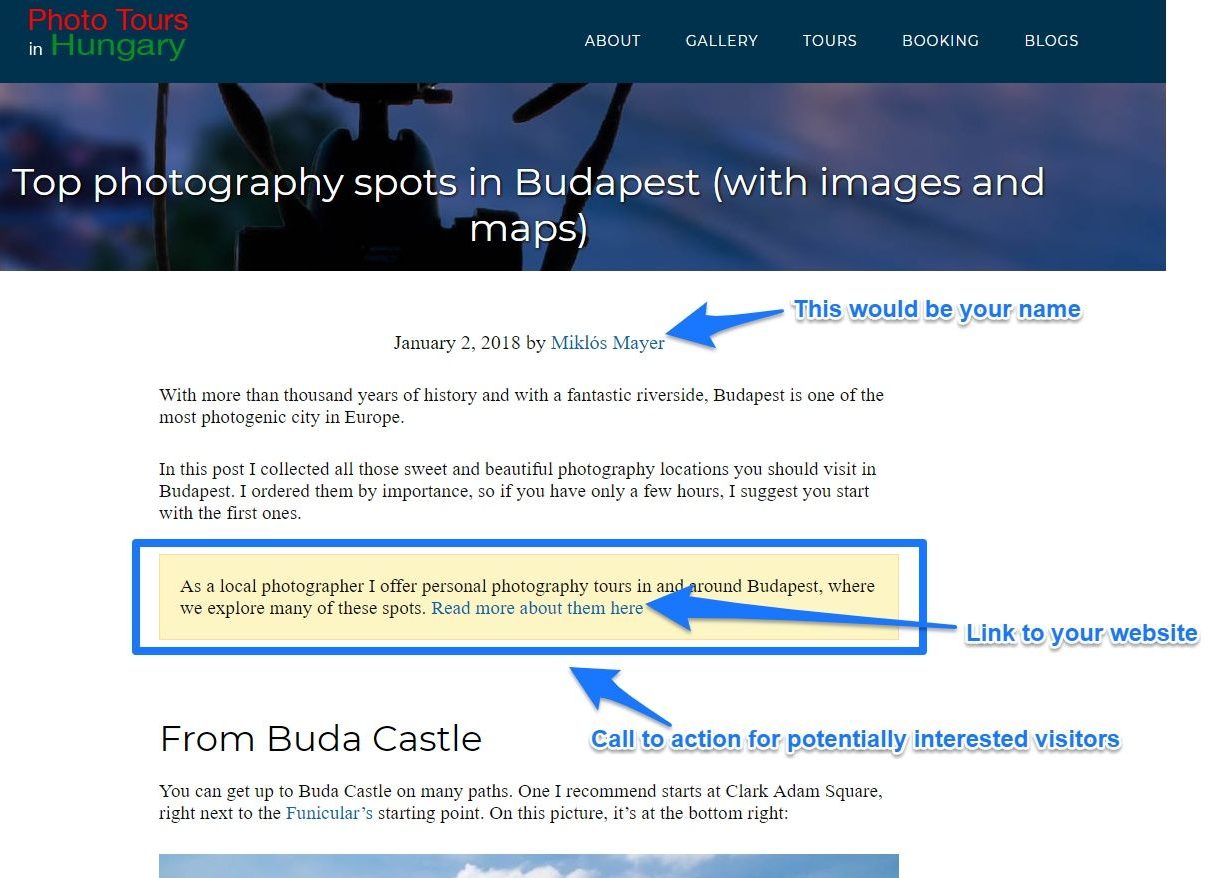 Bottom line: half of my guests found me through this blogpost (it comes first or second in Google)
And I've noted that many of the photo guides don't have an article on the topic.
If you already have such an article, it would be great if you could put it on this site. If you don't have, it would a good opportunity 🙂
Now, I know that Google penalizes duplicate content, so I make sure to put a canonical link to your original article on your website. This link tells Google that the article on your website is the source.
So what are the benefits for you?
– Soon your article would hit first page on Google, and more clients would find you.
– You also get a quality backlink to your site
Why is this good for me (for iwillbeyourphotoguide.com)?
– I get quality content on the website which helps the site rank better.
– I don't plan to monetize this part of the website, so I would NOT take commissions or anything like that.
Does it cost anything?
No.
It's completely FREE. I don't even take commissions from any bookings or things like that.
But if all the spots are there in the article, why would people need the guides in person?
This is a question I used to ask…
So what do you say?
If you're in, shoot me an email at miklos(at)iwillbeyourphotoguide.com, with the subject "Article submission". Then I'll give you an account into the site (runs WordPress), and you can start writing it.